Aldevra Joins Foodservice Equipment Dealer Buying Group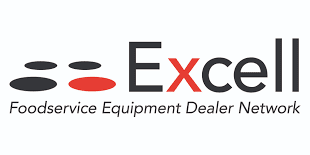 Kalamazoo, MI, May 5, 2022 – Aldevra was accepted into the fastest-growing foodservice equipment buying group in the industry – Excell. Founded in 1995, Excell Marketing & Procurement Group is a premier nationwide network of foodservice equipment distributors: both independent restaurant supply dealers and commercial kitchen equipment vendors. The members of the restaurant equipment buying group are marketplace leaders who constantly strive to provide solutions and service the needs of end-users.
"I have high confidence that Aldevra is going to do very well in the group," says Gyle Walker, Excell vice president of sales. "I have every expectation that they will quickly become a premier member."
As members of the Excell foodservice equipment buying group, dealers are supported and backed by a combined nationwide network of 306 foodservice equipment dealers and suppliers. Members share one goal: to provide solutions and service operators' needs. A partnership with an Excell dealer guarantees operators will connect to a local expert who keeps abreast of changing technology, is skilled in providing personalized product recommendations, unparalleled service, and always puts operators' needs first.
"We have decided to take things to the next level for our foodservice customers, and Excell is the perfect fit," says Rodney Marshall, Aldevra president & CEO. "We share many of the same values around people first, customer centric, relentless improvement, accountability and fun. Joining Excell brings a lot of benefit to our customers and our staff."
As forward-thinking leaders & technology trailblazers, Excell grows their partner's businesses for a competitive future – maximizing group purchasing to become pioneers in the marketplace, and ultimately, driving success to the end-users through access to the largest network of dealers & vendors across the nation.
Learn more about Excell at excelldealers.com or email sales@aldevra.com for information on how this partnership can benefit you!
About Aldevra
Aldevra was formed in 2009 by current President & CEO Rodney Marshall. Mr. Marshall is a U.S. Marine Corps veteran and minority entrepreneur. Over the last decade, Aldevra has successfully performed federal and state government contracts for multiple agencies throughout the U.S. and overseas and is expanding into the commercial market with its e-commerce sales. The company began by offering foodservice equipment and supplies, then medical. Customers asked for services such as installation, preventive maintenance and full-time staffing so the company grew into construction, facility management and health care staffing. Its mission is to provide high-quality products and timely service at the best value. Recent awards include Great Place to Work Certified™ 2021-2022; 2021 Military Friendly® Employer; 2020 SBA Region 5 Small Business Prime Contractor of the Year; Army Partnership for Youth Success (PaYS) Partner #911; 2018, 2019, 2020 Inc. 5000 list of fastest-growing privately owned businesses in the U.S.; and 2021 HIRE Vets Medallion Platinum Award. Visit aldevra.com for more information.
About Excell Foodservice Equipment Dealer Network and Nissco RDG
Excell Foodservice Equipment Dealer Network and Nissco Restaurant Dealer Group, based in Denver, are the fastest-growing foodservice equipment buying groups in the industry. The groups' nationwide network of foodservice equipment dealers and suppliers are leaders in their marketplace with the goal of providing solutions and to service the needs of end-users.
Members' success is the result of forward-thinking planning, strong management, a focus on relationships and networking, trailblazing technological solutions, unparalleled service offerings and robust programs to promote rapid growth with their suppliers.