Aldevra Recognized as 2021 HIRE Vets Platinum Medallion Award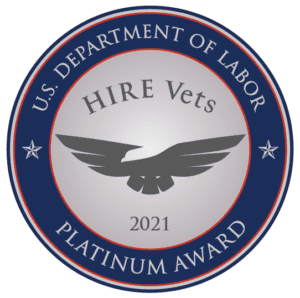 11 NOVEMBER 2021– U.S. Secretary of Labor Martin J. Walsh recognized Aldevra as one of the 159 platinum small business recipients of the 2021 HIRE Vets Medallion Award during a virtual award ceremony presented by U.S. Department of Labor. Aldevra earned the PLATINUM award after applying earlier this year. The Honoring Investments in Recruiting and Employing American Military Veterans Act (HIRE Vets Act) Medallion Program is the only federal award program that recognizes employers who successfully recruit, hire, and retain veterans.
"ALMOST 40 PERCENT OF OUR STAFF ARE VETERANS," SAYS RODNEY MARSHALL, ALDEVRA PRESIDENT AND CEO. "WE MAKE A CONSCIOUS EFFORT TO RECRUIT AND RETAIN MY FELLOW COMRADES. WE LOOKED OUT FOR EACH OTHER WHILE WE SERVED, AND WE CONTINUE TO DO SO."
Aldevra joins 848 other companies from 49 states, plus the District of Columbia, who have shown a commitment to hiring veterans, but also ensuring that they have a long-term career and growth plan that uses the diverse skills they acquired through their military service. Recipients of the 2021 HIRE Vets Medallion Award meet rigorous employment and veteran integration assistance criteria, including veteran hiring and retention percentages; availability of veteran-specific resources; leadership programming for veterans; dedicated human resource efforts; pay compensation and tuition assistance programs for veterans. More than 1,400 employers have earned a HIRE Vets Medallion Award since 2018.
About Aldevra LLC:
Aldevra was formed in 2009 by current President & CEO Rodney Marshall. Mr. Marshall is a U.S. Marine Corps veteran and minority entrepreneur. Over the last decade, Aldevra has successfully performed federal and state government contracts for multiple agencies throughout the U.S. and overseas. The company was named to the 2018, 2019 and 2020 Inc. 5000 lists of fastest growing privately owned businesses in America, made the 2019 and 2020 Vet100 list of fastest growing veteran-owned companies, is a 2021 and 2022 Military Friendly Company, and is a certified Great Place to Work 2020-2021. More information is available at aldevra.com.
About the HIRE Vets Medallion Program:
The HIRE Vets Medallion Award is earned by businesses that demonstrate unparalleled commitment to attracting, hiring and retaining veterans. The 2022 HIRE Vets Medallion Award application period will open to employers on Jan. 31, 2022. For more information about the program and the application process, visit HIREVets.gov. There are different awards for large employers (500-plus employees), medium employers (51-499 employees), and small employers (50 or fewer employees). Additionally, there are two award tiers: platinum and gold.