Aldevra Ranked Among 100 Fastest-Growing Veteran-Owned Businesses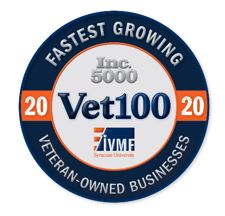 Aldevra, LLC has been named to the annual Vet100 list—a compilation of the nation's fastest growing veteran-owned businesses. The ranking, created in partnership with Inc. magazine and Syracuse University's Institute for Veterans and Military Families (IVMF), was born out of the iconic Inc. 5000 list of the fastest-growing private companies based in the U.S. Both distinctions are considered hallmarks of entrepreneurial success.
"Business growth is a real economic driver in this country and the fact is that most of the new jobs in the economy—over 87 percent—are created by private businesses," says Eric Schurenberg, CEO of Mansueto Ventures, publisher of Inc. Magazine. "Veteran entrepreneurs contribute their share to the job story, employing over 5.5 million. They deserve to be recognized for their continued service to the country."
"We're honored to be recognized yet again as a successful veteran-owned company," says Rodney Marshall, Aldevra president & CEO, "This achievement is due to the great team of employees, vendors and other partners we have who are so committed to our mission of providing high-quality products and timely services at the best value."
"Military experience provides veteran entrepreneurs with skills and knowledge we know to be valuable in the business world," said Mike Haynie, Syracuse University Vice Chancellor and IVMF Founder and Executive Director. "The growth of this year's list is a hopeful and inspiring indication of how important and valuable veteran entrepreneurs are to our society and economy. These businessmen and women not only served in defense of our collective freedom and security, they now continue to serve by bettering the economies in their communities and across the country. We are proud to partner again with Inc. magazine and are grateful for their efforts to shine a spotlight on the success of veteran-owned businesses."
Aldevra was formed in 2009 by current president & CEO Rodney Marshall. Marshall is a U.S. Marine Corps veteran and minority entrepreneur. Over the last decade, Aldevra has successfully performed numerous contracts throughout the U.S. and overseas for government agencies and commercial customers, most recently expanding its e-commerce presence and creating a services division. The company provides food service and medical equipment, as well as installation, project management and staffing. More information is located at aldevra.com.
For more information on the Inc. Vet100 list, visit: https://ivmf.syracuse.edu/Vet100/