ALDEVRA LLC RECEIVES 2020 HIRE VETS MEDALLION PLATINUM AWARD FROM U.S. DEPARTMENT OF LABOR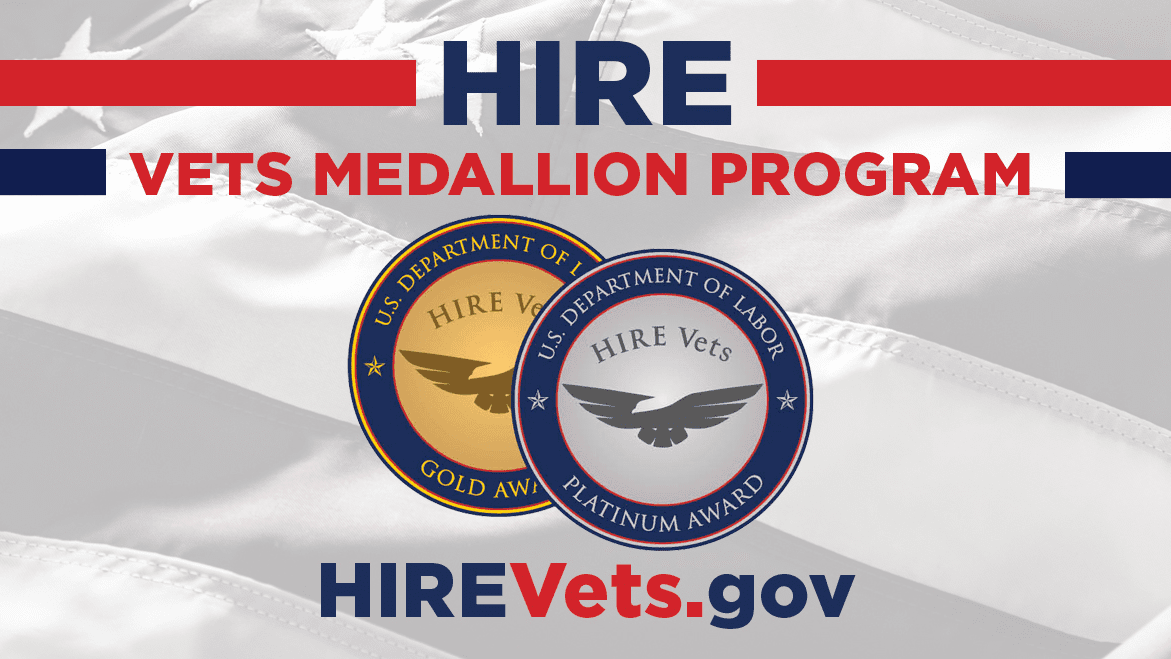 11 NOVEMBER 2020 – U.S. Secretary of Labor Eugene Scalia recognized Aldevra as one of the 675 recipients of the 2020 HIRE Vets Medallion Award during an award ceremony at the U.S. Department of Labor. Aldevra earned the PLATINUM Award after applying earlier this year. The Honoring Investments in Recruiting and Employing American Military Veterans Act (HIRE Vets Act) Medallion Program is the only federal award program that recognizes job creators who successfully recruit, hire, and retain veterans.
"I'M A VETERAN AND, AS A BUSINESS OWNER, I HAVE A UNIQUE OPPORTUNITY TO SET THE STANDARD FOR MY COMPANY," SAID RODNEY MARSHALL, PRESIDENT AND CEO OF ALDEVRA. "WE ENCOURAGE VETERANS TO APPLY, PERIOD, AND TAKE STEPS TO MAKE SURE THEY ARE INFORMED OF JOB OPENINGS. IT IS MY EXPECTATION THAT OUR COMPANY PROVIDES OPPORTUNITIES FOR MY FELLOW BROTHERS AND SISTERS OF ARMS. ONCE ONBOARD, OUR TEAM HAS EXPERIENCE WORKING WITH VETERANS AND HELPING THEM TRANSITION TO CIVILIAN LIFE. THIS MAKES FOR A SUCCESSFUL TEAM, TO WHICH WE ALL CONTRIBUTE."
Aldevra joins 674 other companies from 49 states, plus the District of Columbia, who have shown a commitment to hiring veterans, but also ensuring that they have a long-term career and growth plan that uses the diverse skills they acquired through their military service.
The HIRE Vets Medallion Award is based on a number of criteria, ranging from veteran hiring and retention to providing veteran-specific resources, leadership programming, dedicated human resources, and compensation and tuition assistance programs – with requirements varying for large, medium, and small employers.
About Aldevra LLC:
Aldevra was formed in 2009 by current President & CEO Rodney Marshall. Mr. Marshall is a U.S. Marine Corps veteran and minority entrepreneur. Over the last decade, Aldevra has successfully performed federal and state government contracts for multiple agencies throughout the U.S. and overseas. The company was named to the 2018, 2019 and 2020 Inc. 5000 lists of fastest growing privately owned businesses in America, made the 2019 and 2020 Vet100 list of fastest growing veteran-owned companies, and is a certified Great Place to Work 2020-2021. More information is available at aldevra.com.
About the HIRE Vets Medallion Program
The HIRE Vets Medallion Award is earned by leading businesses that demonstrate unparalleled commitment to attracting and retaining veterans. The 2021 HIRE Vets Medallion Program will open to employers on Jan. 31, 2021. For more information about the program and the application process, visit www.HIREVets.gov.