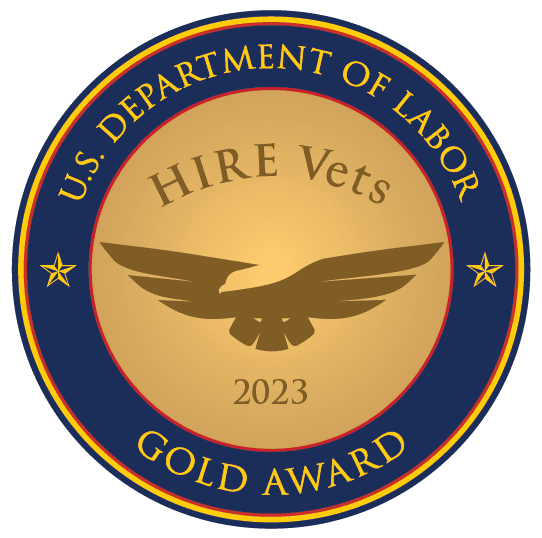 Kalamazoo, Michigan, Nov. 8, 2023 — Aldevra received the 2023 HIRE Vets Medallion Award from the US Department of Labor. There were 859 employers from around the nation who were recipients of the 2023 Honoring Investments in Recruiting and Employing American Military Veterans Medallion Award, which recognize employers for their commitment to supporting U.S. military veterans in the civilian workforce.  Aldevra is one of 393 small businesses that received an award.
US Department of Labor Acting Secretary Julie Su and Assistant Secretary for Veterans' Employment and Training James Rodriguez announced the 2023 HIRE Vets Medallion Award recipients and offered congratulatory remarks during an online ceremony. 
"The U.S. Department of Labor applauds the commitment that HIRE Vets Medallion Award recipients show by employing, retaining and supporting our nation's veterans," said Acting Secretary of Labor Julie Su. "Congratulations to the more than 850 award recipients who understand that tapping into the unique skills and talents of our veterans helps to strengthen their organizations and power our nation's economic growth." 
The Honoring Investments in Recruiting and Employing American Military Veterans Act (HIRE Vets Act) Medallion Program is the only federal award program that recognizes employers who successfully recruit, hire, and retain veterans.
Aldevra's achievement of the Gold Medallion Award criteria not only showcases the team's commitment to patriotism but also its acknowledgment of the valuable contributions veterans make to the workforce. This prestigious recognition is conferred upon businesses that not only employ a substantial number of veterans but also prove their dedication to fostering long-term careers and professional advancement for these individuals, utilizing their unique and diverse skill sets.
"This is the 3rd year we have been recognized for our efforts to hire and retain veterans from the Department of Labor," says Rodney Marshall, Aldevra president and CEO. "We are very intentional about seeking and following best practices to create an environment where veterans want to work. This recognition affirms those efforts and proves that even small companies can do it."
Founded in 2009, Aldevra takes immense pride in its team's substantial representation of veterans. The latest affirmative action plan reveals that more than 30% of Aldevra's workforce is comprised of veterans. As a service-disabled veteran-owned small business, it is a unified and unwavering mission within the team to provide support and uplift those individuals who have made the ultimate sacrifice.
About the HIRE Vets Medallion Program
The HIRE Vets Medallion Award is earned by businesses that demonstrate unparalleled commitment to attracting, hiring and retaining veterans. The 2023 HIRE Vets Medallion Award application period will open to employers on Jan. 31, 2024. For more information about the program and the application process, visit HIREVets.gov. There are different awards for large employers (500-plus employees), medium employers (51-499 employees), and small employers (50 or fewer employees). Additionally, there are two award tiers: platinum and gold.
About Aldevra LLC
Aldevra LLC was founded on January 25, 2009 by Rodney Marshall, a service-disabled veteran and minority entrepreneur who recognized a need for small businesses with these qualifications in the marketplace. With a vision to serve an industry he was familiar with, Mr. Marshall set out to establish Aldevra as a trusted provider of government contract services. Since its inception, Aldevra has demonstrated its capability as a reliable prime contractor for federal and state government agencies across multiple projects. At Aldevra, we are committed to delivering high quality products and timely service at the best value.
For more information, visit aldevra.com