Shop our selection on Amazon
Browse thousands of items efficiently and securely on our Amazon store!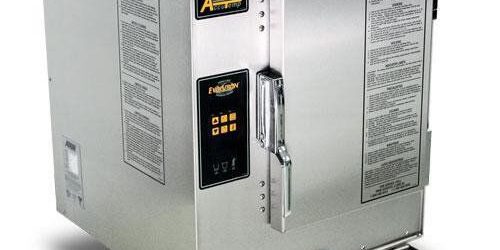 THE EVOLUTION™ STEAMER
A STEP AHEAD
While the Evolution™ Steamer is loaded with dozens of features, what really makes it ahead of the competition is its patented Steam Vector Technology™. SVT™ brilliantly creates forced convection without using fans, motors, pumps, or any other moving parts while also conserving water usage. The Evolution™ delivers faster cook times and more even pan-to-pan cooking – all with less maintenance and industry-leading water and energy efficiencies.
ACCU-STEAM™ GRIDDLE
UNMATCHED PERFORMANCE
No other griddle can match the production, consistency, and even temperatures of the Accu-Steam™ Griddle. The Accu-Steam™ harnesses the science of steam to deliver 100% usable surface area. Steam by nature is attracted to anything colder than itself, which allows users to place cold or frozen product on the griddle surface with near-instant surface temperature recovery – regardless of food load. This results in even surface temperatures without any hot or cold spots. Combined, these benefits produce consistent product and decreased ticket times during peak periods. The Accu-Steam™ Griddle outperforms any griddle on the market and is truly the gold standard in griddle cooking.