Shop our selection on Amazon
Browse thousands of items efficiently and securely on our Amazon store!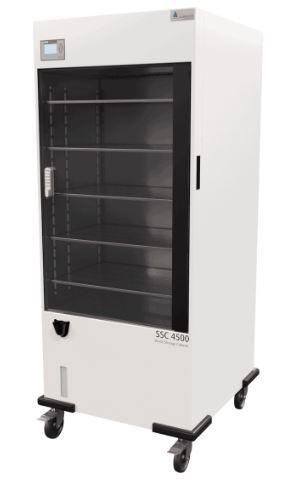 Sterile Storage Cabinets
Designed for flexibility and ease of use
Deploys Quickly — made for plug and play applications
Portable—Easily moved from room to room
Saves Time — Prevent unnecessary reprocessing by keeping sterile equipment within proper humidity and pressure parameters
Saves Cost — Install a portable solution instead of retrofitting an existing space to meet strict temperature, humidity and pressure requirements
Helps Prevent Infection —Maintain the sterility of your equipment and supplies
No hardwired electrical or plumbing connections— Painless installation does not require any additional connections
Easy to Read and Troubleshoot— Simplified HMI display
Temperature and Humidity Control— Climate control for your sterilized equipment and supplies
Manufactured using hospital grade 304 stainless steel construction, this cleanable storage cabinet is designed to control temperature, humidity and pressure within the storage chamber. Integrated cooling and steam humidifier maintain temperature and humidity conditions within the chamber to meet desired set point conditions. The onboard custom control system provides easy operation utilizing a digital display for monitoring temperature humidity and system status. The mobile storage cabinet is built with casters so the unit can be easily moved from room to room as required. The self modulating fan system delivers air to the internal chamber and maintains proper air change rates. An integrated HEPA filtration system is designed to exceed ISO 7 cleanliness standards.
Sterile Storage Cabinet Datasheet 
Email sales@aldevra.com for more information and pricing!
Similar products:
Air Innovations is a world leader in designing and building environmental process control systems for applications that can't be addressed with standard HVAC equipment. We customize packaged solutions for temperature, humidity, filtration, pressurization, and with direct-expansion, chilled-water, or thermo-electric capabilities.
ENVIRONMENTAL CONTROL SOLUTIONS
AEROSPACE ENVIRONMENTAL CONTROL SYSTEMS
Whether you are preparing to send payloads into space, testing ballistic missile systems, calibrating equipment in very precise conditions, or working in other areas of aerospace and defense systems, you can be confident knowing your environmental control units will be developed to precise aerospace specifications and with decades of experience.
HOMELAND SECURITY HVAC
Complex situations call for environmental control expertise. There are not many places that have the rigid standards and necessity for high quality as Homeland Security, but we are able to provide custom solutions in environmental control and homeland security HVAC. Homeland Security trusts Air Innovations to deliver.
LIFE SCIENCES & PHARMACEUTICAL HVAC
Biotech, life sciences, and pharmaceutical HVAC systems are often needed for temperature, humidity and dew point control in sensitive processes and equipment. At Air Innovations, we've created a variety of process control systems for the medical, biotech, and life sciences fields.
MILITARY ENVIRONMENTAL CONTROL UNITS
Some military and defense systems, such as targeting and calibration systems, require process environmental control units (ECUs) to function properly and consistently. And while a commercial or industrial environmental control system will share attributes with a defense or military environmental control unit — such as having specific temperature and humidity requirements or clean room level filtration — many defense and military environmental control units are also exposed to harsh environments or require ruggedization to be effective.
ENVIRONMENTAL CONTROL IN RESEARCH APPLICATIONS
Research applications often require complex environmental control systems to cool critical equipment and processes. While there are too many varieties of environmental control requirements that come up in research applications to list here, Air Innovations has experience designing environmental cooling systems with a wide range of constraints and parameters including the following: temperature, humidity, filtration, airflow, space, shape, color, material, energy consumption, heat-exhaust, explosion-proofing, harsh environments, and more.
SEMICONDUCTOR TEMPERATURE CONTROL SYSTEMS & HUMIDITY REGULATION
Whether you're working in design or quality in a Semiconductor application, you need a partner who understands your challenges and knows how to help you achieve your goals. Air Innovations supports customers within a variety of Semiconductor environments and applications. Our customers in the semiconductor industry are usually looking for environmental control in these areas:
EXPLOSION PROOF HVAC
Explosion-proofing is a common requirement we have designed for customers in various industries. Our explosion proof air conditioning systems have been designed for near-continuous operation, while withstanding harsh environments and extreme temperatures in petroleum, mining, military, aerospace and pharmaceutical applications. Read the case study on explosion proof ECUs designed to cool frequency drives in large centrifuge machines in pharmaceutical tablet-coating.
SPECIALTY ENVIRONMENT HVAC
Sometimes, our customers can utilize standard solutions, such as our Specialty Commercial and Residential HVACsystems, which not only provide niche environmental control, but are also flexible enough to work in anything from data centers and art preservation to wine cellars and cigar storage.
MICRO ENVIRONMENTS
We have even assisted manufacturers of emergency consoles and other desk consoles with environmental control solutions.