28 April 2023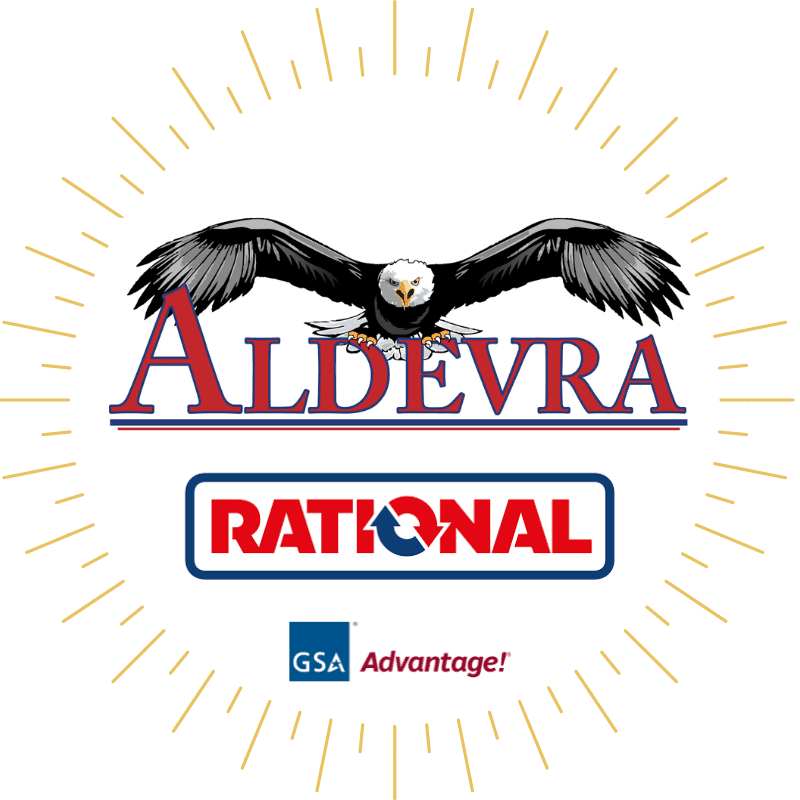 Kalamazoo, Michigan – RATIONAL is joining the list of reputable manufacturers on Aldevra's General Services Administration Federal Supply Schedule contract. RATIONAL is a leading manufacturer of intelligent cooking equipment for commercial kitchens, and their products include iCombi ovens and the iVario. Together they replace 90 percent of traditional cooking appliances, and provide a solution to many pain points such as unskilled labor, budget pressure and the demand for outstanding food quality.
The iVario is a game changer as it is one piece of equipment that replaces ✓lifting pan ✓boiler ✓deep-fryer and ✓pressure cooker. It has 40-gallon usable volume, 100-500 meals per day capacity, 906 square inch cooking surface, intuitive control concept, effective energy management, great results with no monitoring, and pressure cooking. The pan base is divided into four zones, making it ideal for cooking multiple dishes simultaneously.
Sign up to see either of these products used in a live cooking demonstration!
"140 million dishes are prepared daily around the world in RATIONAL units, and they taste good!" said Rodney Marshall, Aldevra President & CEO. "RATIONAL's unwavering commitment to a shared goal of continually creating value for our customers is evident from the ease of quoting to turnkey installations and the awesome chefs who are always available to help. We look forward to continuing to work together to serve our federal customers."
The federal government is leading the way in procuring products that are energy-efficient, which aligns perfectly with RATIONAL's dedication to improving energy efficiency and achieving ENERGY STAR certification for their products. RATIONAL recently announced that all 13 iCombi Pro models are ENERGY STAR certified. This is significant because the ENERGY STAR program is one of the few globally recognized certifications for high energy efficiency, certified by independent institutes. RATIONAL has also exceeded the new energy efficiency and water consumption standards set by the ENERGY STAR program for Commercial Ovens V 3.0. This means that RATIONAL's cooking systems not only meet but exceed the new requirements, making them an excellent choice for federal agencies looking to reduce their environmental impact.
For those interested in purchasing RATIONAL products, contact sales@aldevra.com for a quote or find products online at gsaadvantage.gov. Aldevra is proud to offer RATIONAL products and looks forward to serving federal agencies with their commercial kitchen needs.