Aldevra Receives 2022 Michigan 50 Companies to Watch Award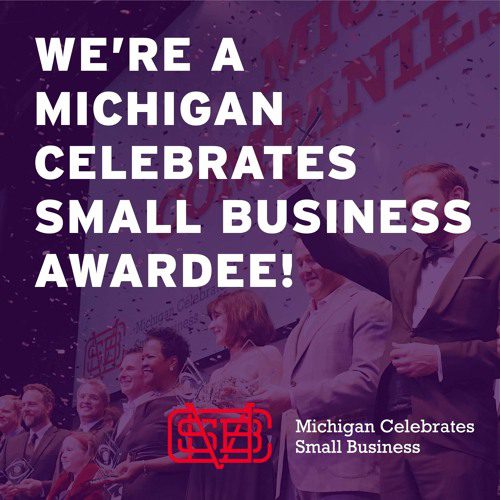 March 18th , 2022 (Kalamazoo, Michigan)— Aldevra LLC has been recognized as one of the 2022 awardees for the Michigan 50 Companies to Watch Award, presented by Michigan Celebrates Small Business. Aldevra LLC will be acknowledged on stage at the in-person awards ceremony during the 18th annual Michigan Celebrates Small Business Gala on May 3, 2022.
Success is best when shared, and the event will gather over 800 guests at the Breslin Center in East Lansing, Michigan to celebrate the achievements of this year's award recipients.
"Aldevra is honored to be a 'company to watch,'" says Rodney Marshall, Aldevra president & CEO. "The last couple of years have been difficult for many small businesses, us included, yet we are still here. The pandemic helped us understand what matters most – taking care of people. I'm grateful for our incredible staff who choose to work with us and take care of our customers. Together, we deliver high-quality products and services at the best value. Watch what happens next!"
Aldevra LLC was formed January 25, 2009 by current President & CEO Rodney Marshall. Mr. Marshall is a service-disabled veteran and minority entrepreneur. He knew there was a demand for small businesses with these qualifications and wanted to start with an industry where he was comfortable. Since its inception, Aldevra has successfully performed as the prime contractor on federal and state government contracts for multiple agencies, providing high quality products and timely service at the best value.
Companies nominated for the Michigan 50 Companies to Watch Award must be second-stage companies, defined as having six to 99 full-time-equivalent employees and generating $750,000 to $50 million in annual revenue or working capital from investors or grants. Additionally, the companies must be privately held and headquartered in Michigan.
"MCSB has always prided itself on its spirit of collaboration and celebration," said Jennifer Deamud, MCSB Board Chair. "We love seeing our awardees celebrating one another's success and sharing in this amazing moment is each awardee's journey. It's true— success is best when it is shared."
Judges from economic and entrepreneurship development organizations annually select the winners. The judges evaluate the nominees' demonstration of intent and capacity to grow based on the following:
Employee or sales growth
Exceptional entrepreneurial leadership
Sustainable competitive advantage
Other notable factors that showcase the company's success
Michigan Celebrates annually receives over 550 nominations for the Michigan 50 Companies to Watch award. In addition to a competitive landscape for this award, the businesses who are selected by the judges go through a rigorous due diligence process prior to the final decision.
Additional information and ticket information can be found at MichiganCelebrates.org.
# # #
Michigan Celebrates Small Business (MCSB) is a collaboration of trusted statewide founding organizations who offer resources for small businesses. Since 2005, Michigan Celebrates Small Business awards gala has placed a spotlight on how small businesses positively impact our communities and state. The MCSB organization is focused on supporting, promoting and celebrating small businesses in Michigan.
Kinexus Group is the Managing Partner of the awards gala.