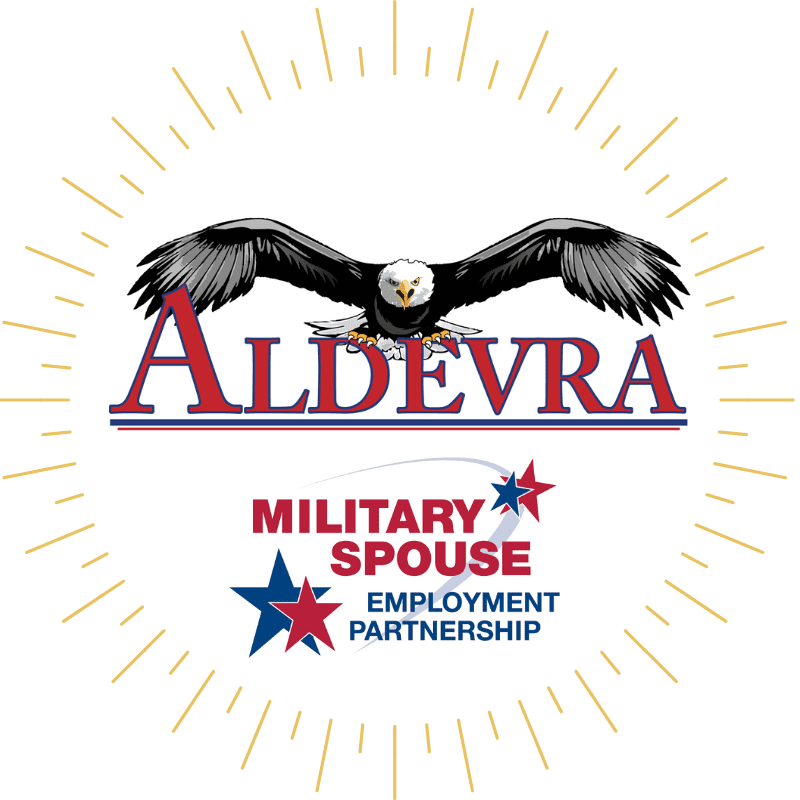 KALAMAZOO, Michigan, 26 May 2023 – Aldevra was selected as a Military Spouse Employment Partnership Small Business (MSEP SB) Partner by the Department of Defense (DOD). The MSEP is a targeted recruitment effort and employment solution for the spouses of military members who may have greater barriers to finding employment due to frequent relocation, resulting in more than a 20% unemployment rate. The MSEP has more than 600 company partners who have hired more than 220,000 military spouses. DOD recognizes that locally owned businesses such as Aldevra can impact the employment challenges faced by military spouses by increasing employment opportunities.
C. Eddy Mentzer, Associate Director for Military Community Support Program, DOD Military Community and Family Policy writes, "Your commitment to this program will be vital in the challenge of decreasing unemployment and wage gap disparities between military spouses and their civilian counterparts and driving economic security for our military families."
Aldevra will be expected to:
Actively recruit and seek to hire military spouses for employment opportunities within the organization.
Post available jobs on the Military Spouse Employment Partnership Jobs Portal.
Offer targeted career support for military spouses such as telework, flexible scheduling, and remote work when possible.
Provide quarterly reporting of military spouse hires to the MSEP program office.
Participate in local outreach events to brand the organization and connect with local community networks serving the military population.
"This partnership reinforces our commitment to providing exceptional staffing solutions to federal agencies while supporting the talented military spouses who face unique employment challenges," says Rodney Marshall, Aldevra president & CEO. "By leveraging our expertise in connecting the Department of Veterans Affairs and DOD with top talent, we aim to empower military spouses with exciting career opportunities and strengthen our nation's workforce. We are honored to be entrusted with this responsibility and look forward to making a positive impact alongside the Department of Defense."
Aldevra has implemented several company initiatives and adopted best practices that focus on recruiting, hiring, and retaining veteran or military talent within the organization. The company has received several awards related to being a military-friendly employer, including spouse. The Military and Veteran Employee Resource Group (MVRG) at Aldevra is dedicated to facilitating a network, building awareness, and providing resources to employees interested in or involved with the military and veteran community. The group helps to bring together team members of Aldevra in a supportive environment and in furtherance of the Aldevra commitment to equal employment opportunity for all employees.
Interested applicants can visit the Aldevra website and view current open positions: aldevra.com/careers. To connect directly with our recruiters, email careers@aldevra.com.
About Aldevra
Aldevra LLC, founded in 2009 by Rodney Marshall, a service-disabled veteran and minority entrepreneur, is a trusted provider of a wide range of services. Recognizing the demand for small businesses with specific qualifications, Mr. Marshall established Aldevra with a vision to serve the industry he was intimately familiar with – the military and veteran community. Since its inception, Aldevra has continually demonstrated its capability as a reliable prime contractor for federal and state government agencies across various projects.
Aldevra's expertise spans multiple sectors, including foodservice and medical equipment, construction/renovation, and staffing. With a steadfast commitment to quality, Aldevra delivers exceptional solutions at the best value in these areas, meeting the unique needs of its clients. Through its comprehensive services, Aldevra ensures the provision of top-notch products, efficient construction and renovation projects, and skilled staffing solutions.
As a leader in the industry, Aldevra remains dedicated to delivering excellence in all its endeavors, driving innovation, and exceeding customer expectations. With a strong foundation and a customer-centric approach, Aldevra continues to forge ahead, making a positive impact in the government contracting landscape. Visit aldevra.com for more information.
About MSEP
MSEP, a targeted recruitment and employment solution, creates employment connections that provide companies with direct access to military spouses seeking career opportunities and spouses with direct access to employers who are actively recruiting. MSEP is part of DoD's broader initiative which seeks to strengthen the education and career opportunities for military spouses by providing:
Career exploration opportunities to help them understand their skills, interests, and goals.
Education and training to help them identify academic, licensing, or credentialing requirements that can help them reach their career goals.
Employment readiness assistance to optimize their self-marketing skills.
Employment connections that help them find and maintain a rewarding career.
Learn more by visiting militaryonesource.mil
About Spouse Education and Career Opportunities
The Defense Department established the Spouse Education and Career Opportunities program to provide education and career assistance to military spouses worldwide, offering free comprehensive resources and tools designed to help spouses meet their career and education goals. Resources include free career coaching services, the My Career Advancement Account scholarship for eligible spouses, and the Military Spouse Transition Program, or MySTeP.